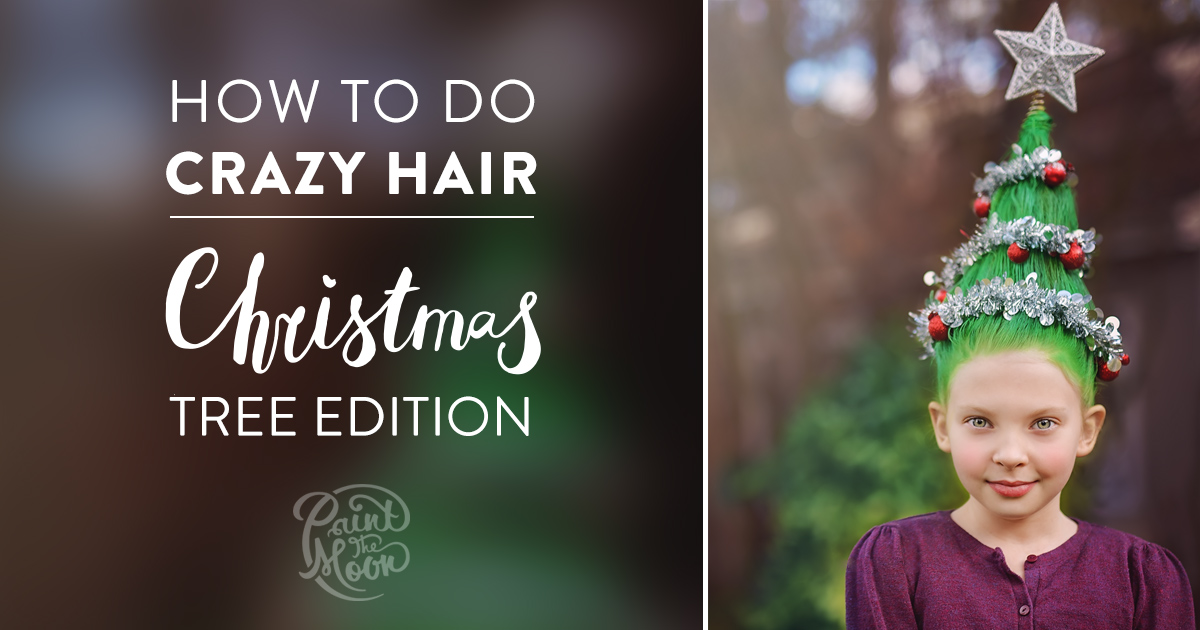 Crazy Hair Day, Christmas Tree Tutorial
Sooo, we were invited to a little Crazy Hair Christmas Party this week. Oh, Christmas Tree, Oh Christmas Tree …
Hopefully, you don't mind a fun, personal post! After sharing this photo on my Facebook page I had so many requests for how this was done that I thought I would post a little quick "how to" here on the blog for those who wanted the details, and to Pin it. 🙂
Supplies needed (we had everything on hand already except the green colored hairspray):
• Large plastic cup (a red Solo cup worked perfectly)
• Green construction paper
• Scotch tape
• Hairbrush and comb
• Hairspray (lots of extra strength spray – think big bangs from the 80's)
• Green temporary color hairspray
• Glitter hairspray
• Bobby pins and hair ties/elastics
• Mini tree ornaments, garland and tree topper (all from the dollar store)
1. Take the large plastic cup and wrap the green construction paper around it to form a cone. Tape it together and tuck the ends into the opening of the cup.
2. Place the cone like a birthday hat on the top of the head.
3. Gather the hair around the cone in an upright ponytail. It helps to add hairspray and gel as you brush upward into the ponytail. Once it's gathered at the top, put a hair tie/rubberband around the top of the cone.
4. Keep spraying hairspray as you gently comb hair upward, making sure to cover any gaps in the hair.
5. Spray with green temporary hair coloring. Once it started looking opaque green I finished it with some gold glitter hairspray. I found both the glitter and green sprays at Walgreens that worked perfectly.
6. Next take the mini garland and wrap it around the "tree," pinning it with bobby pins as you go. I then hooked a few ornaments onto the garland. I selected "mini" ornaments, garland and topper and made sure they were all very lightweight.
7. Now – the star on the tree! I wrapped one more hair tie on the top of the tree, tucking the stray hairs in, then pinned the star to the hair ties.
8. To finish I sprayed the hair ties and pins that were showing with green paint to hide them. And one more quick coat of glitter for extra sparkle factor.
She *loved it* and it stayed perfect literally all day when she finally took a very green shower in the evening. It all came out easily with a few washes using clarifying shampoo. The photo was edited with the new Reverie Collection's Outdoor All-In-One Mega Base Photoshop action – done editing in 10 seconds! Psssttt … there also happens to be a secret holiday sale on for a limited time for the holidays – just use code HOLIDAY15 for 15% OFF everything. 😉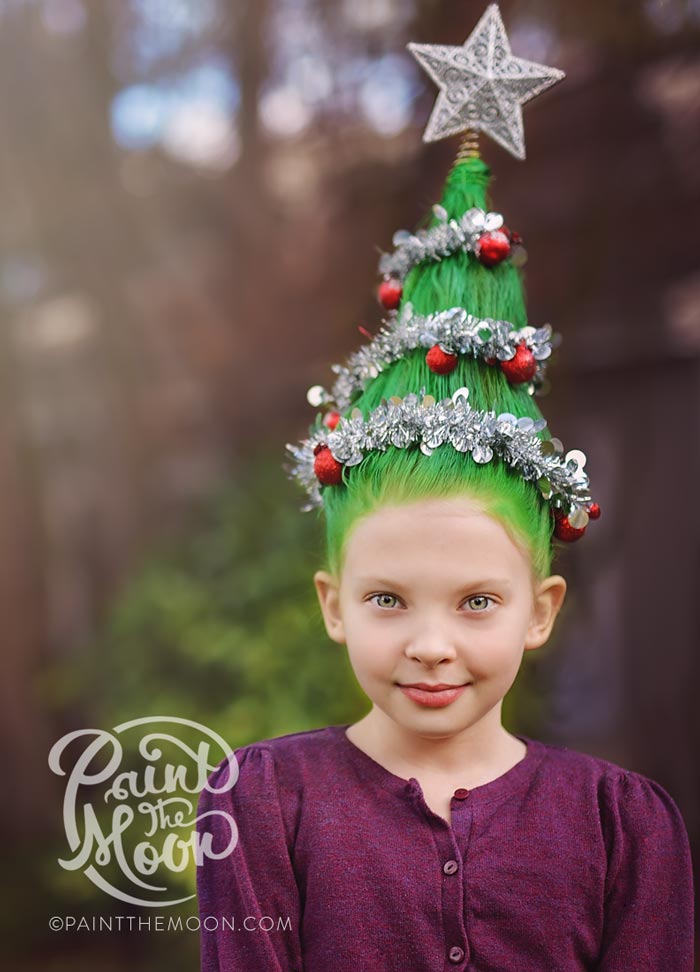 Tags:
Christmas Hair Tutorial
,
Crazy Hair Day How To
,
Paint the Moon Photoshop Actions
,
Photoshop Actions
,
PSE Actions