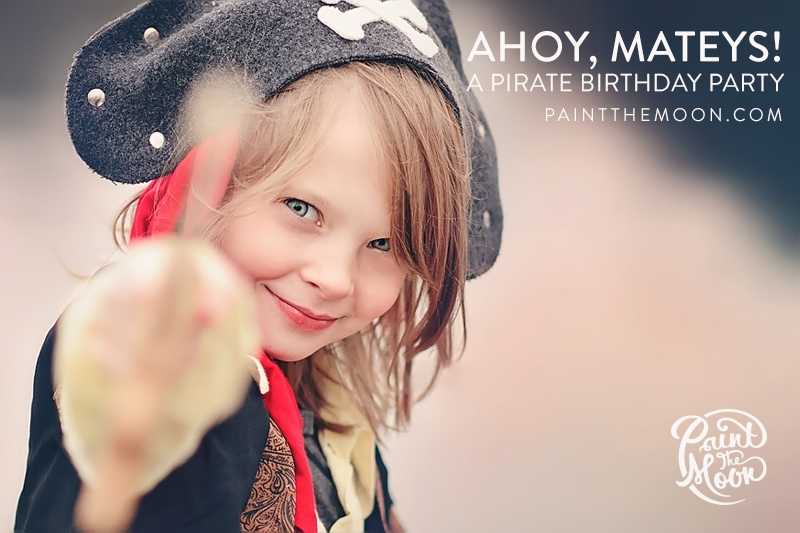 Pirate Birthday Party and Photo Session
THE PHOTO SESSION
It was overcast and gloomy … but I suppose that is the perfect mood for a bunch of ragamuffin pirates. All photos were processed with The Grace Collection Photoshop Actions and shot with the Nikon 85mm 1.4G lens (outdoor portraits) or the Nikon 35mm 1.4G lens (indoor shots at night) for those interested (for those interested in similar lenses on a budget, see the Nikon 35mm 1.8 and Nikon 85mm 1.8) .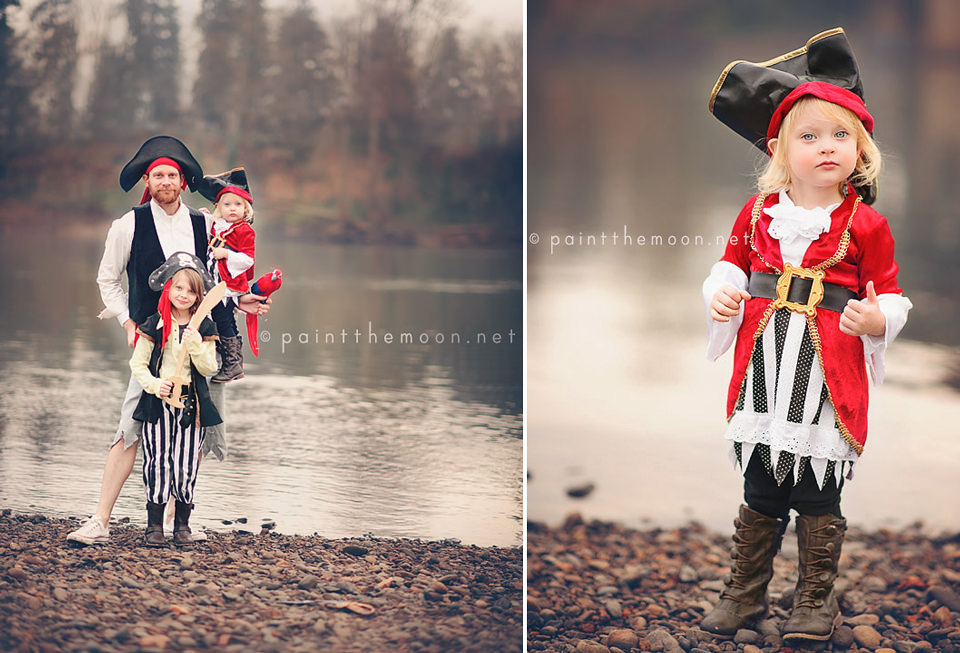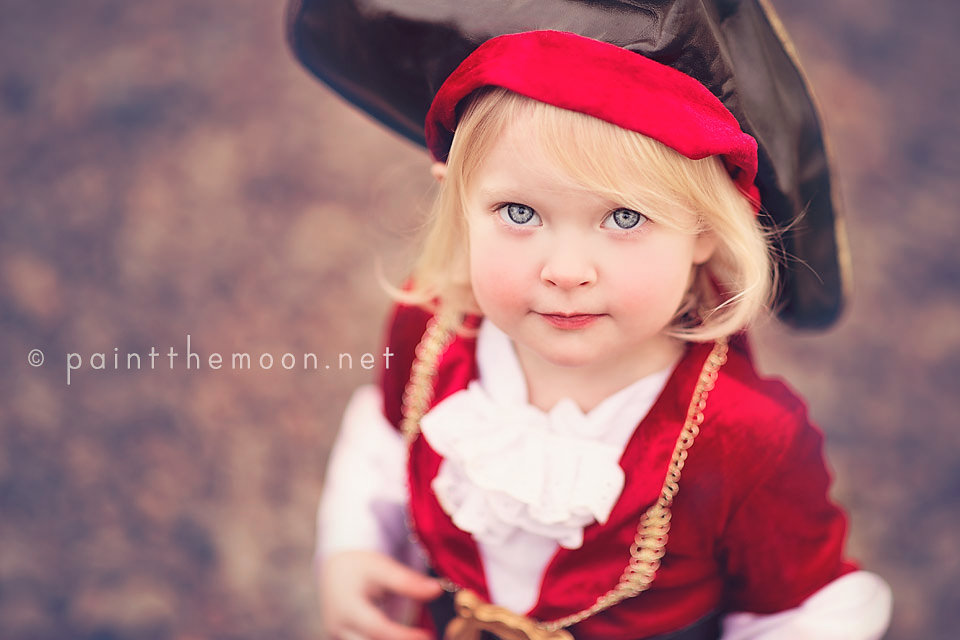 Yes, I've put off sharing theses images so long that I was actually still 7 months pregnant with baby Silas when I took these.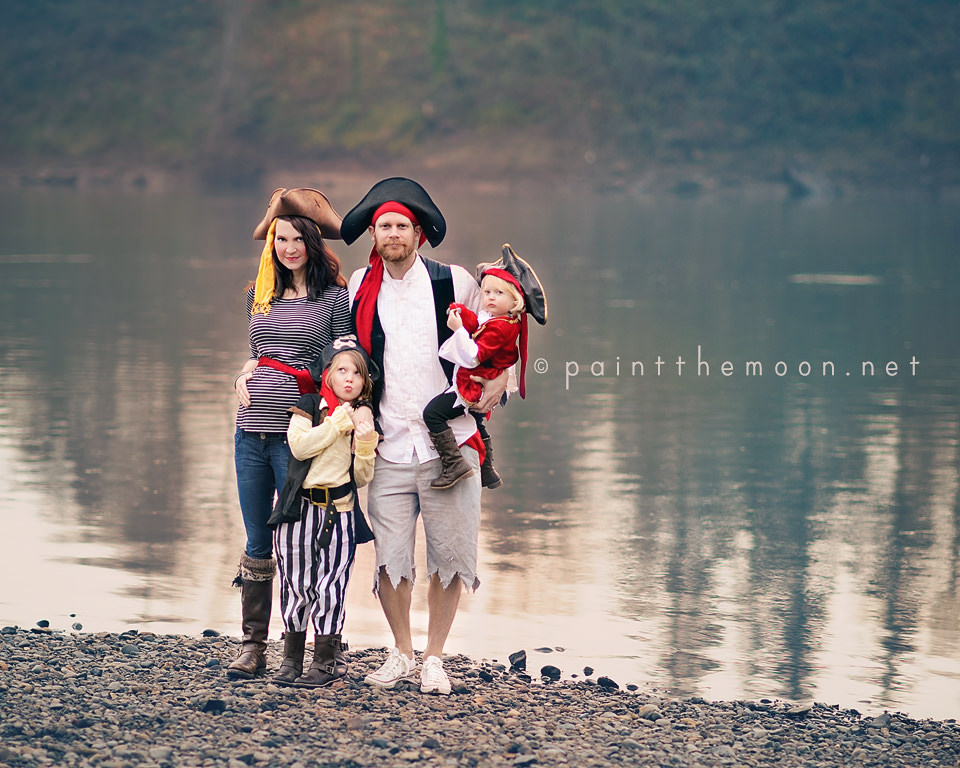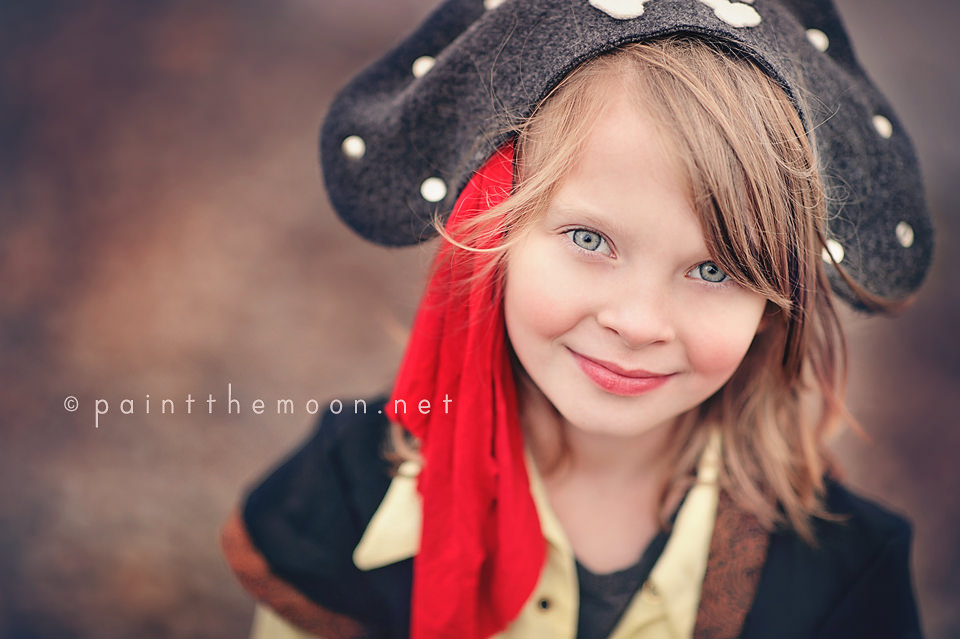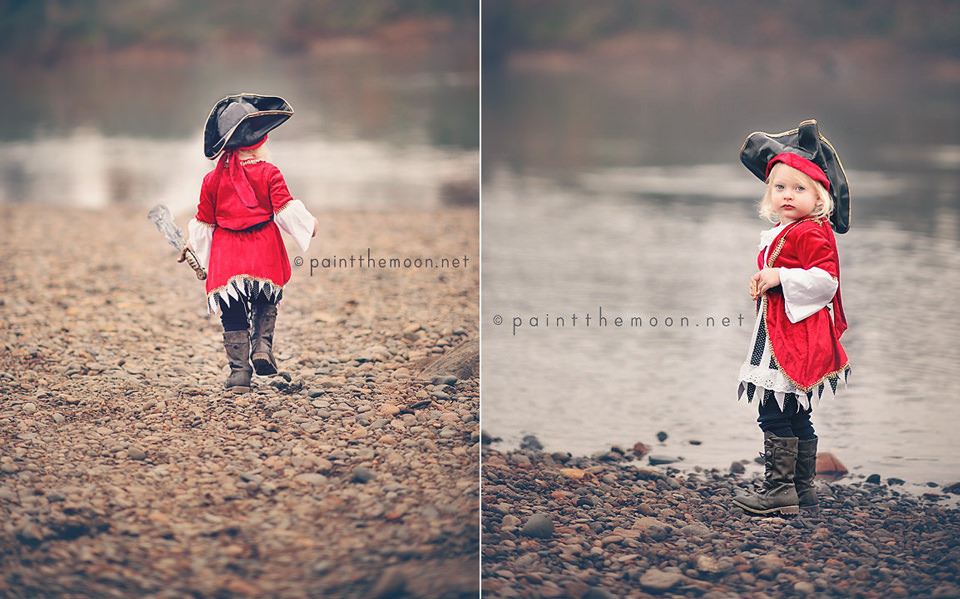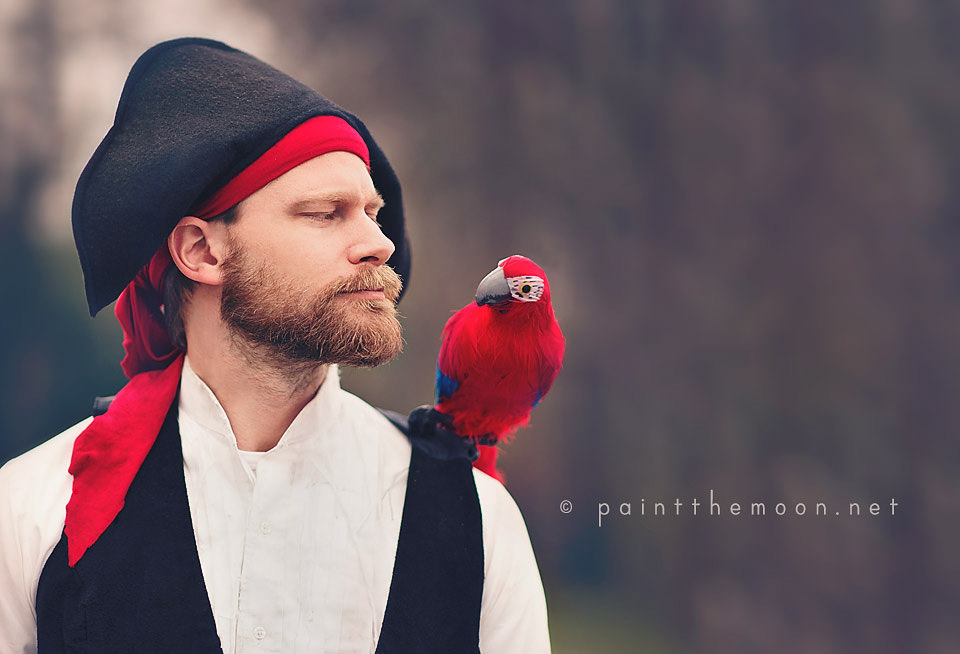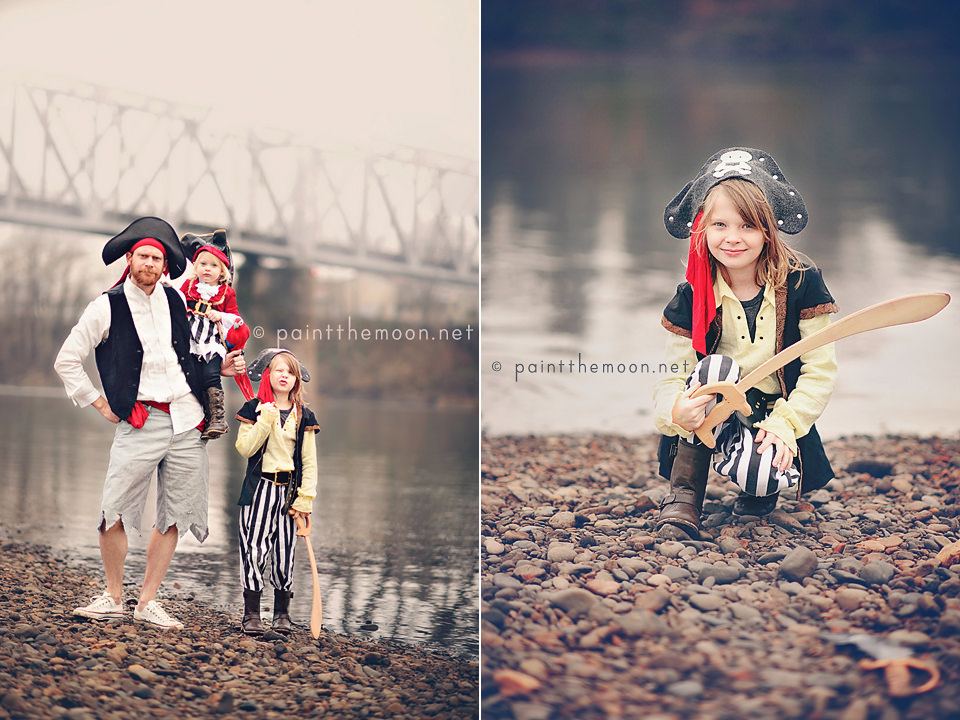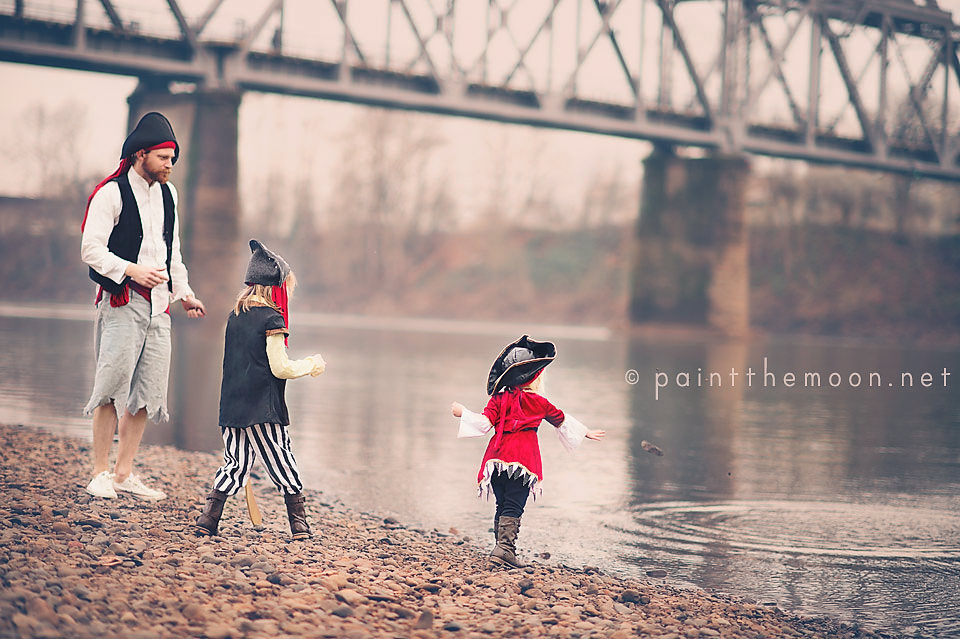 THE INVITATIONS
We delivered invitations in a bottle to all Addie's scallywaggin friends and landlubbin' family. Inside was a little sand, skull tattoo, cold coins, skull ring and, of course, the invite itself.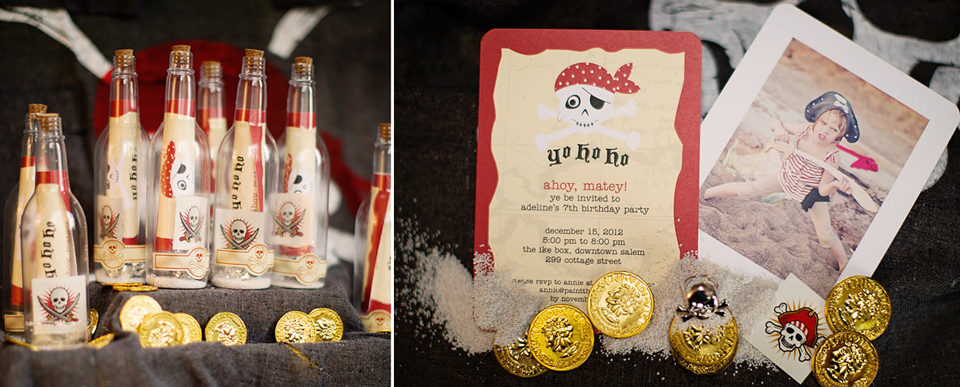 THE LOOT, THE SWEETS AND THE GRUB
No party of ours is complete with the ability to get your sugar high on … so, so sooooo many treats! Many guests were needing a candy intervention by the time the party was over.
We had a table set up for all the little Buckos to get outfitted properly for a night pirating. Pirate masks, eye patches, mustaches, earrings, skull tattoos and felt pirate hats!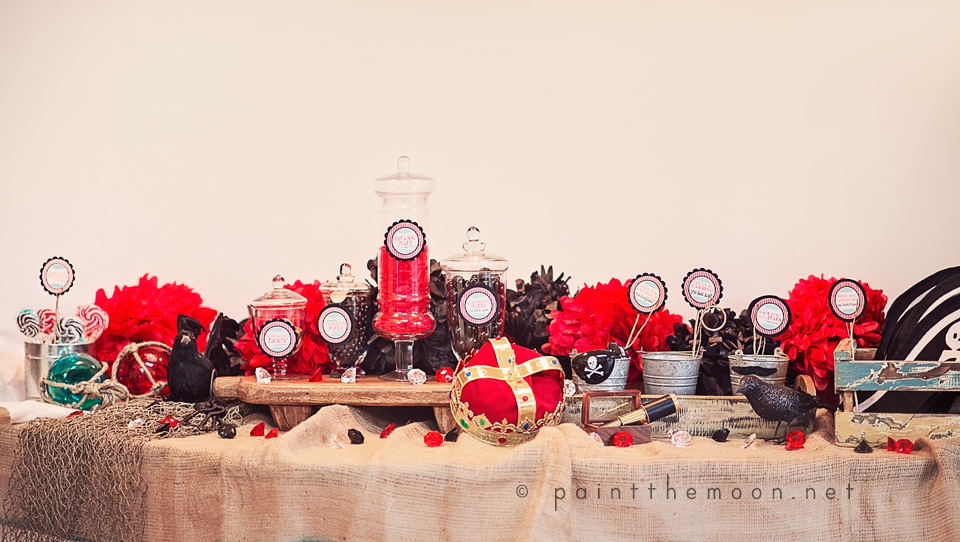 Some of the grub on hand included "X Marks the Spot" (X shaped bread sticks), Shark Attack (sparkling fruit punch), Tropical Island Fruit Skewers, Treasure Islands (chickpea veggie sliders) and Bone Slices (veggie pinwheels). Yes, we were really reaching on keeping some of those names pirate themed … and, yes, we are vegetarian pirates. 😉 Also, as you can see from the candy table – lots of things like gummy sharks and cannonballs (black gumballs that had the extra surprise benefit of turning children's lips and teeth black, lol). Also, a delicious and adorable cake our friend at Me and My Girl Bakery created for us (including delicious and super cute gluten free cupcakes, that I may have hoarded just a bit away from the rest of the guests … just maybe).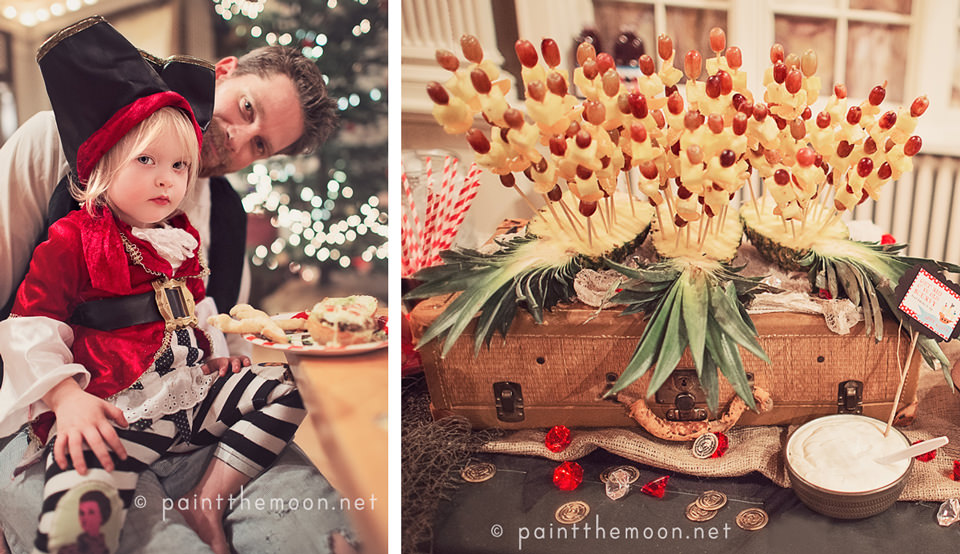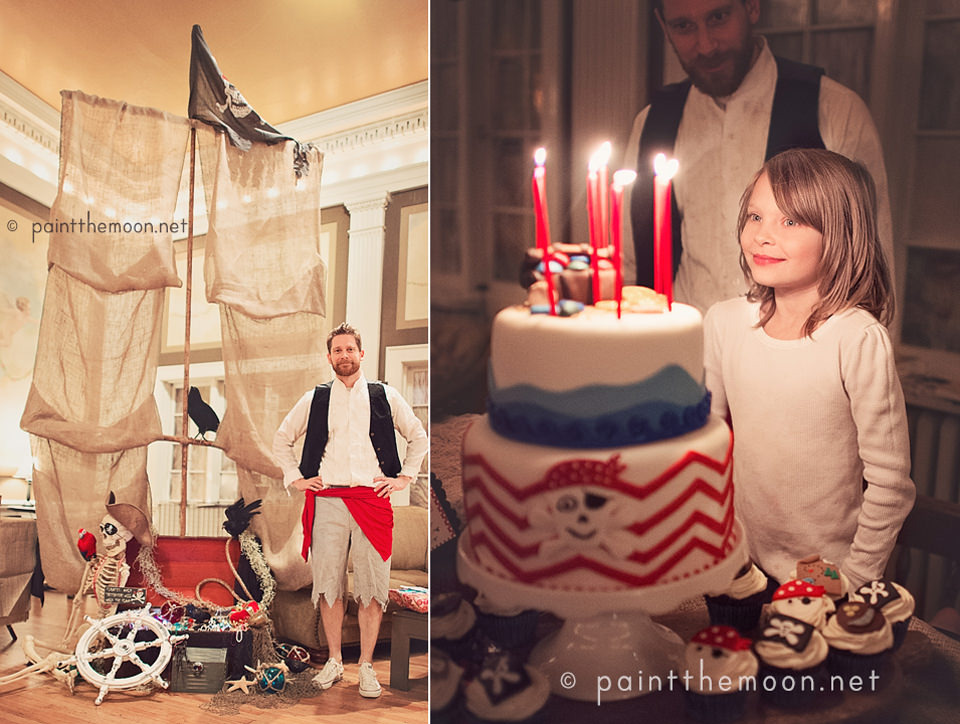 THE TREASURE CHEST
A vintage trunk held oodles and oodles of loot! Everything from bejeweled crowns and goblets to shiny jewels and softly sparkling fairy beads that lit up the rest of the treasure like magic. Of course, Mr. Bones was there to guard everything from looters! We created the 10 foot pirate sail with some garden bamboo, many yards of burlap and regular reloading of the staple gun!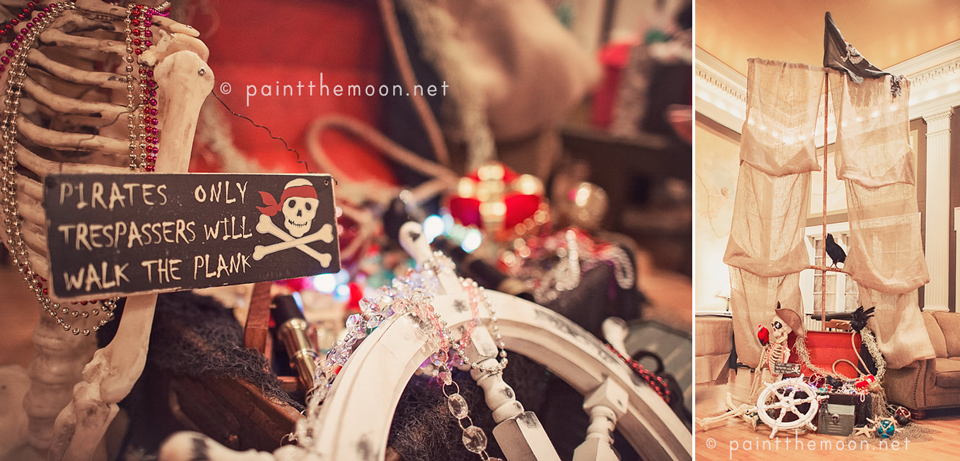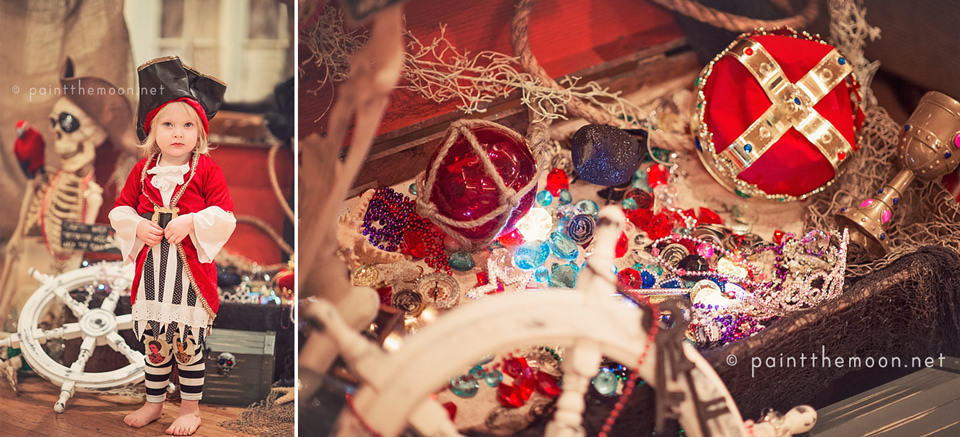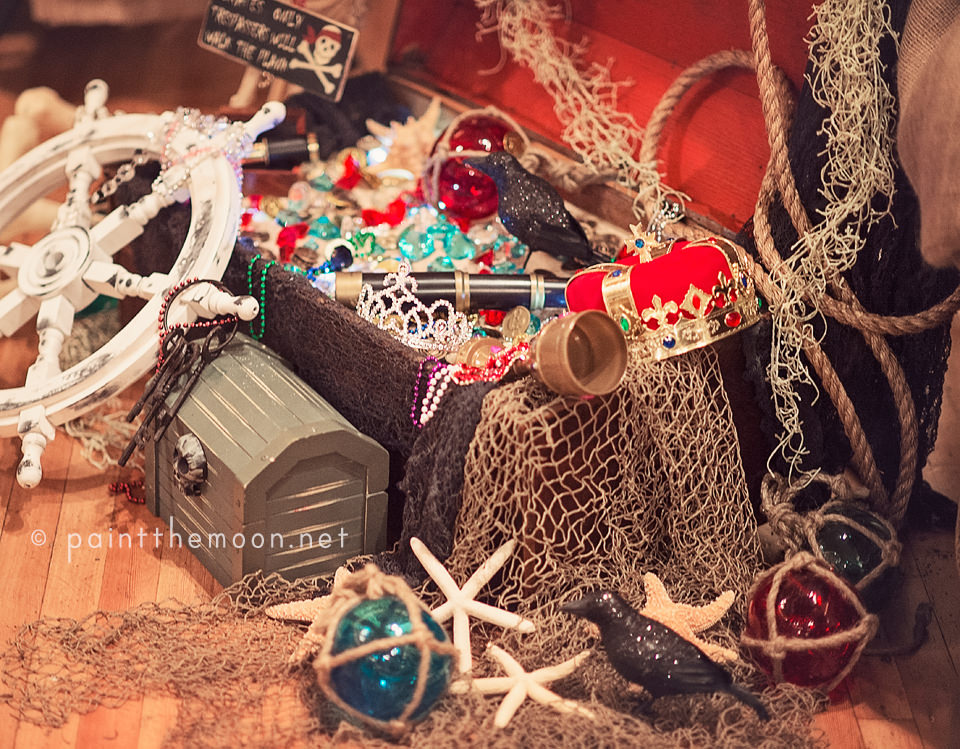 Miss Junebug grabbed the treasure box, filled it to the top and started taking off when she thought nobody was looking. 😉 We have a lot of supplies for imaginative pirate play around the house now! In fact, we just walked together with friends in a Fourth of July Parade at the beach as a band of pirates, so these props just worked their way into our day to day playtime.

THE TREASURE HUNT GAME
Each buccaneer was given a treasure map as a guide. There were 6 clues on the map they needed to find and stop by, picking up that station's code card, then moving to the next until at the end you reach the sought after treasure chest for digging treasures up. One of the stops was the "Take Me Picture" booth, where kids got to stop and have their photos taken. There were plenty of treasures to go around! Just dig 'em up and stick them in your loot bag!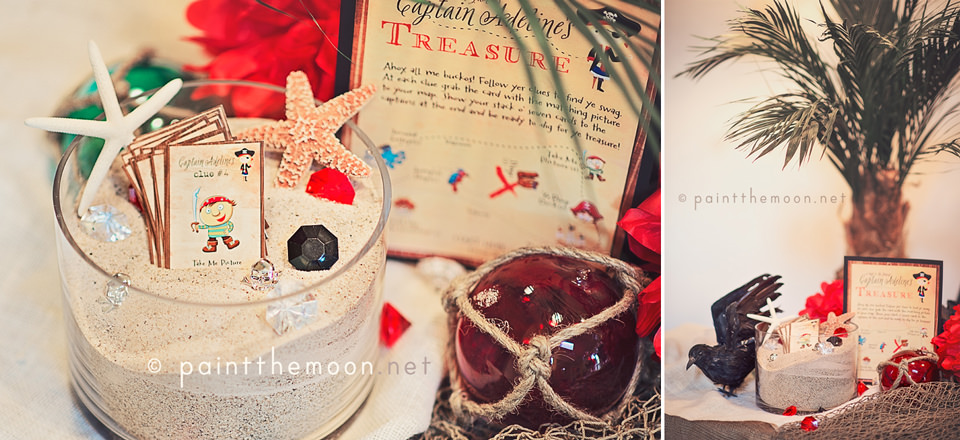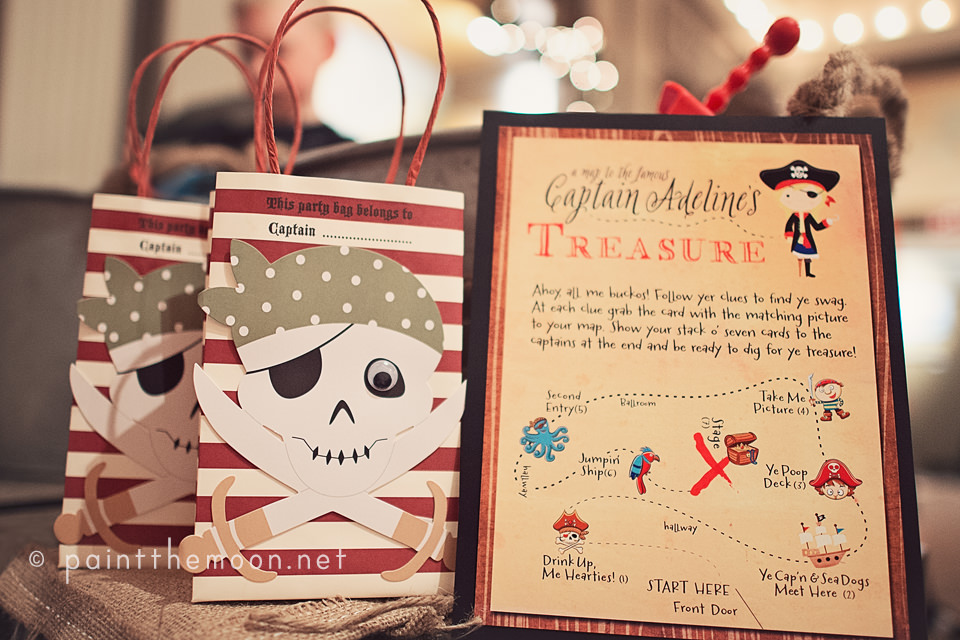 THE PRINTED DESIGNS
I designed all of the signs, tags, etc. myself and printed them out at home. 🙂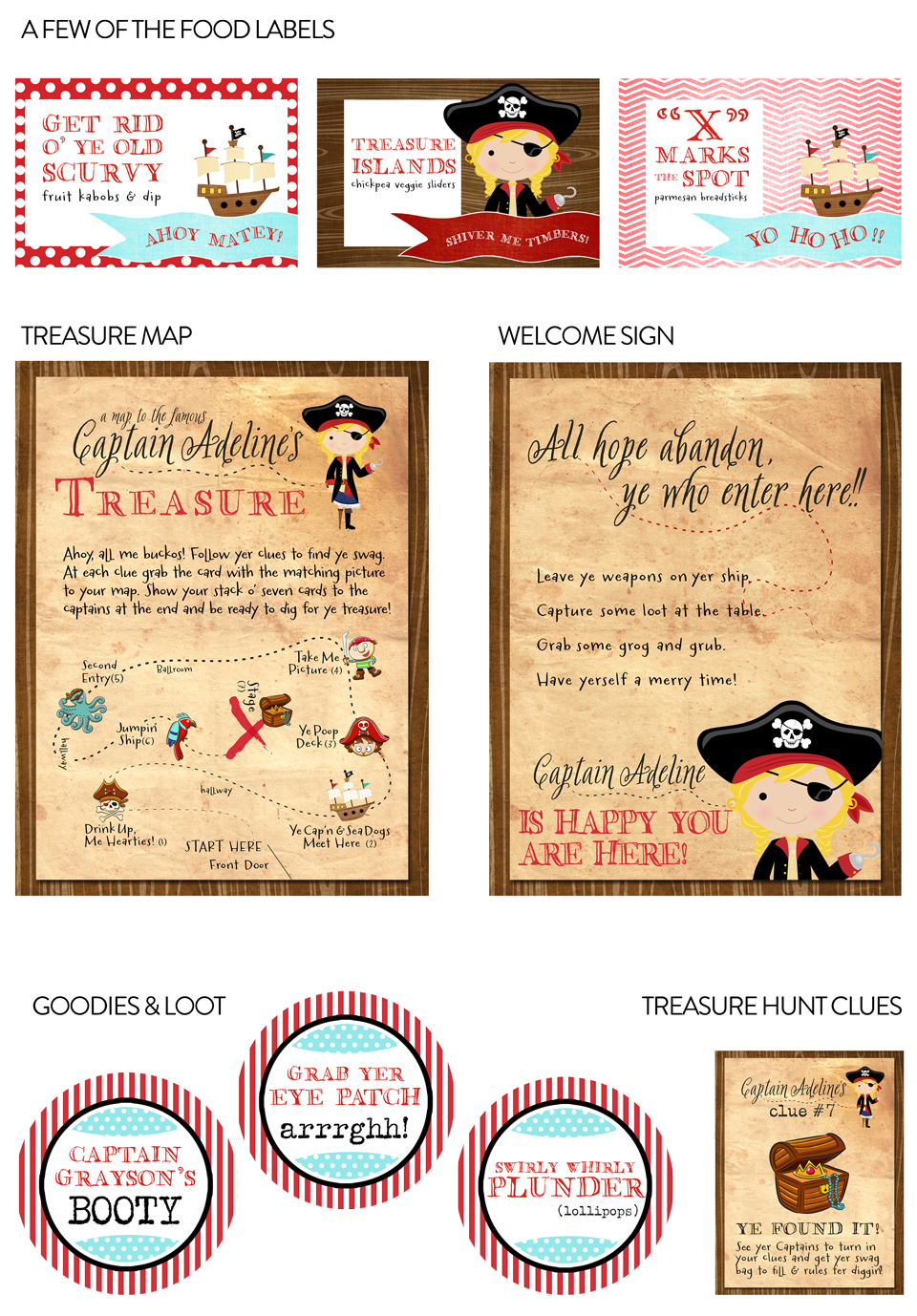 THE BOOTY
Each little pirate received a burlap booty bag that included a sword, tattoos, a stretchy Mr. Bones, gold coins, pirate rubber ducky, skull stamp, pirate bookmarks and an eye patch. We made sure these were picked up at the end of the party so there was no tiny pirates needing real life eye patches due to unruly sword fighting. 🙂


Miss Junebug literally started to fall asleep standing up she was so exhausted. She was standing next to me and started to tip over … when you're two and partying hard all night you crash hard (I was almost there with her because being 7 months pregnant and all this party stuff will knock you out). The bounce house isn't shown in these photos, but that's where the majority of this girl's energy was expended! Thankfully, I reached out and scooped her up before she hit the floor!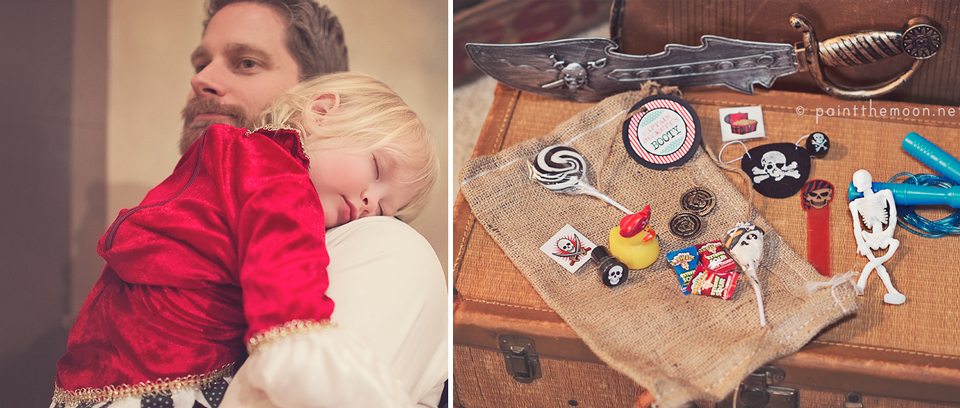 THE FLASHBACK
So our family may have a little obsession for playing pirates together! 😉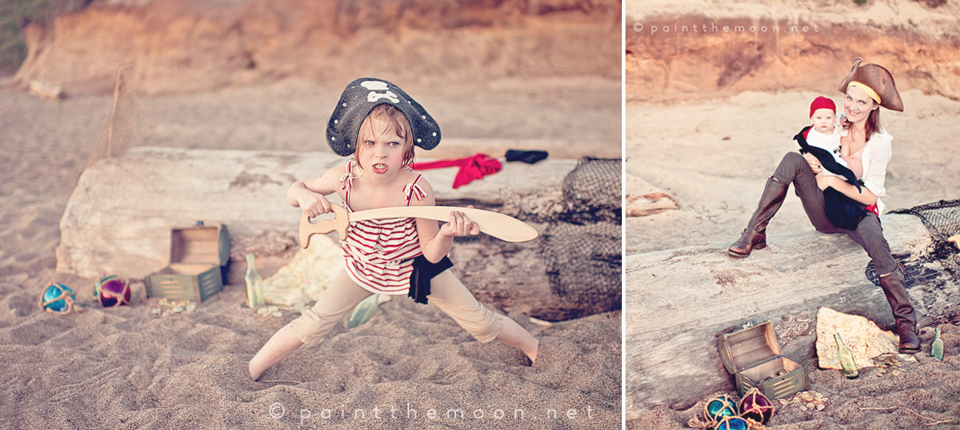 THE SOURCES
A lot of our decorations and props were things we already had around the house, or things found at thrift shops. The kids love playing pirate (and we adore playing with them!!), and we've used everything many times over for other imaginary playtime and events (we just walked in a Fourth of July parade at the beach as a band of pirates, lol). For those interested in finding some of the things seen in photos for your own pirate party, here is a source list. 🙂
• Burlap, striped and miscellaneous fabrics: Local fabric store
• Invitations – Bottles, Skull Rings, Tattoos and Gold Coins:
Oriental Trading (we put our own invite inside)
• Fishing nets, crows, starfish, fairy lights for twinkling lights in treasure chest, ship's wheel, burlap sacks, parrot: Save On Crafts
• Life size skeleton, skull, jewels, pirate flag, crown, goblet, tiara (for inside treasure chest), pirate captain hat, treasures like Mardi Gras necklaces: Amazon
• 36″ round balloons and pom poms: Sweet Lulu
• Swords, pirate masks, mustaches, earrings, miscellaneous treats and
goody bags: Oriental Trading
• Glass fishing floats, vintage bottles and suitcases, treasure chest,
other miscellaneous decor: Local Thrift Shop at the beach 😉