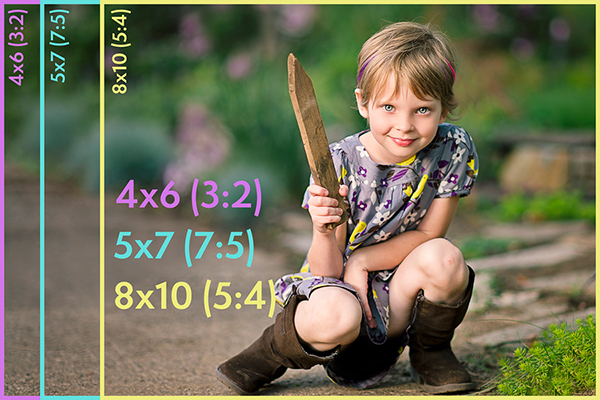 Aspect Ratio, Cropping and Your Photos

Aspect ratio, cropping and how it affects your photos.
Ever have an image that is oh so perfectly framed – you go to place an order for an 8×10 of said beautiful print and then find out that you will lose an arm or leg with that chosen size of print? How did this happen? It's all about aspect ratio. What is aspect ratio, you ask?
Aspect Ratio is simply a measurement of a photograph?s width to height. The aspect ratio for 35mm cameras, film or digital DSLR's, is 3:2. This means that the long side is 1.5 times as long as the short side. This aspect ratio will produce 4″ by 6″ prints. Most professional photographers I know won't offer prints in this small size, so let's take our perfectly framed image and go up another standard size – the classic 8″ by 10″ print. Oops! You may have just chopped off an arm! Why? Because the aspect ratio of a 8″ by 10″ print is 5:4.
You might ask, "How did I lose part of my image if I actually went up in size?" If you take that image with the 3:2 ratio and print it in a size like 5×7 or 8×10, your ratios are different than your 3:2 ratio (the 4×6 format). The 4×6 image's long side is 1.5 times as long as the short side, while your classic 8×10 print size has a 5:4 ratio … which means the long side is only 1.25 times as long as the short side (so it's fatter). No matter how much you go up in size, the 3:2 ratio (4×6 size) is going to always stay narrower than the 5:4 ratio image (8×10). So, when you print an 8×10 you will *always* be cropping two inches off your photo if your camera's sensor is a 3:2 ratio (almost all of you reading this will have a 3:2 ratio camera sensor – the exceptions are point and shoot cameras which usually have a 4:3 ratio, some high end professional cameras use a 4:3 aspect ratio and some cameras let you choose from multiple aspect ratios).
I like to look at the multiplication factors (such as the long side being 1.4 times as long as the short side for a 5×7) instead of the actual ratios (like 5:4) because it's a little easier to remember.
In order to take the image your camera produced at a 3:2 aspect ratio and print it in a size that has a different aspect ratio you'll need to crop part of the photo off. For an example, going from a 3:2 ratio (4×6) to an 8×10 size (which is a 5:4 ratio), you'll need to crop off two inches. This is why it's so important to understand this concept – so your final product is printed just the way you intended, and not with part of Susie's arm missing. If you don't crop your images before sending to print (or giving them to your clients if you provide digital files as a service), the printer will often choose for you just how your image is cropped and you may end up with vital parts of your image chopped off or white borders on two sides of the photo to make up the difference. Most pro labs use an ordering system like ROES that will have a preview for you to position your image for the crop you desire, but it's still important to learn this concept for a number of reasons.
Confused yet? Let's break it into a handy little chart and include a photo reference as a guide to help you visualize it better.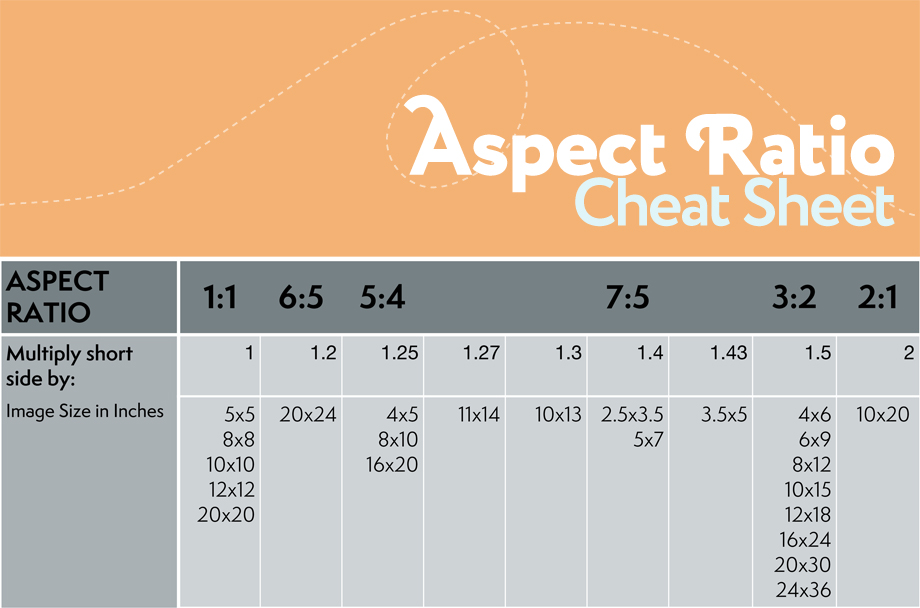 And now let's look at how actual aspect ratios and different sizes would end up cropping an image: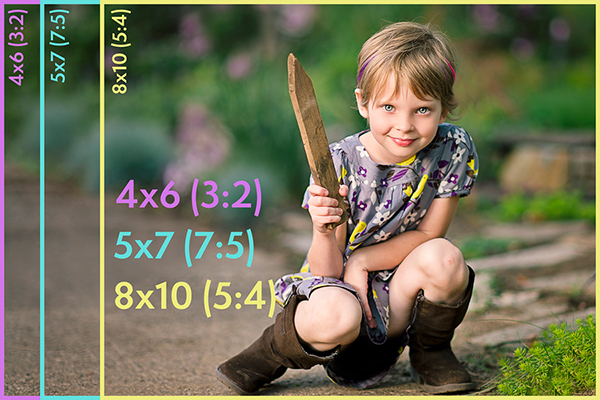 And finally how we would use the crop tool to change our aspect ratio: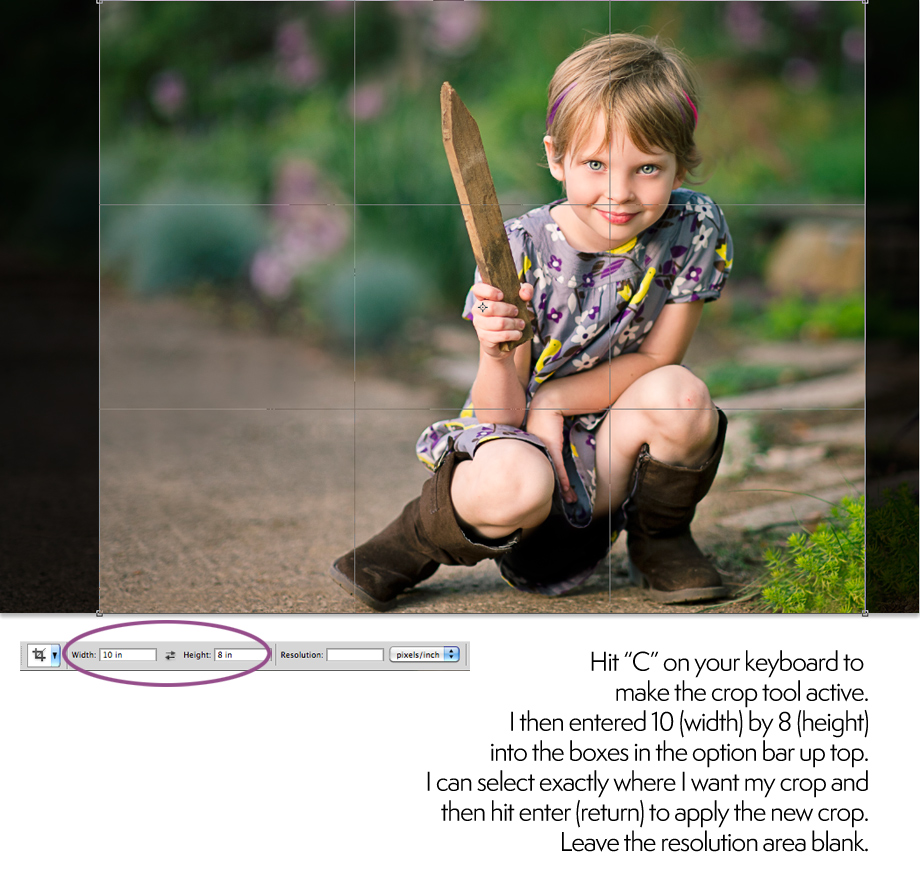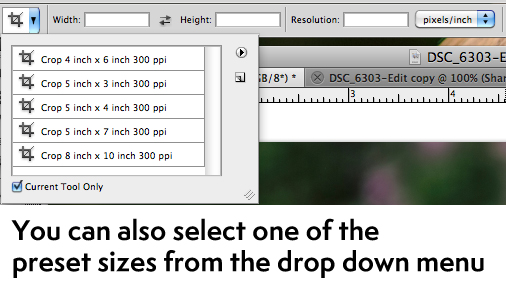 You'll want your prints to have the highest resolution possible, so just leave the resolution field in the options bar blank when cropping. You will need to sometimes crop the image to fit the aspect ratio of a print size ordered, but the resolution should be left alone unless you are resizing for web or blog use. Also, of course, always be sure to save your cropped image as a copy … this is pretty obvious, but you never want to save over the top of your original image.
And the big question is, "How do I avoid having to crop part of my image off when ordering certain sizes?"? The answer is simply to shoot "wider" … leave some breathing room when you are shooting. When you do this, you'll make sure that no part of your subject will be cut off when you have a print made that isn't the same aspect ratio as your camera's sensor. This is especially important with client work. When your client falls in love with an image and wants to order a 16×20 print (because they already ordered the frame for a spot on the wall and that spot just happens to fit that size print perfectly), you certainly don't want to be stuck explaining that it can't be ordered because you didn't leave enough room when shooting. Personally, it took me awhile to get used to shooting like this because I love unusual crops and tight framing and like to do my cropping in camera. But I had a session or two where my tight crop got me into trouble because I didn't have any wiggle room for ordering prints in different aspect ratios. So, let your subjects breathe a little in the frame, use the handy chart above and you'll be fine! Feel free to share with your clients as well so they better understand why the image they are ordering may be cropped slightly differently depending on the size of print they order.
Look for more in this print series next week as I introduce the company I trust with my prints and canvases (ahhh, how I love canvases!! I'll show off some of my personal wall displays full of pretty canvases) and I will share an extra something special with everyone. I'll also be doing some print comparisons and talk about print quality, calibration, advice for photographers who sell digital files and more! So stay tuned!

Tags:
Aspect Ratio
,
Cropping
,
photoshop tutorials
,
Tutorial