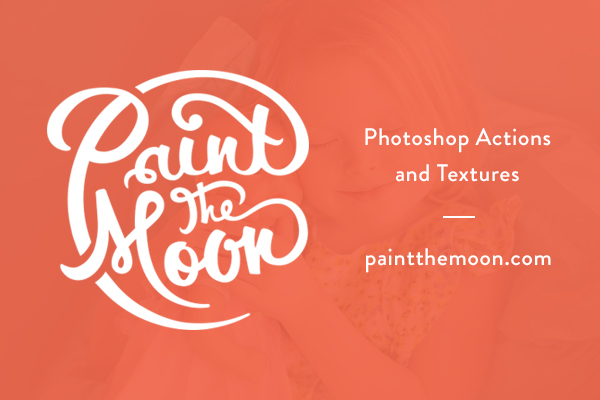 Photoshop Actions Step by Step Tutorial Recipe | Sun Flare and Backlight | Paint the Moon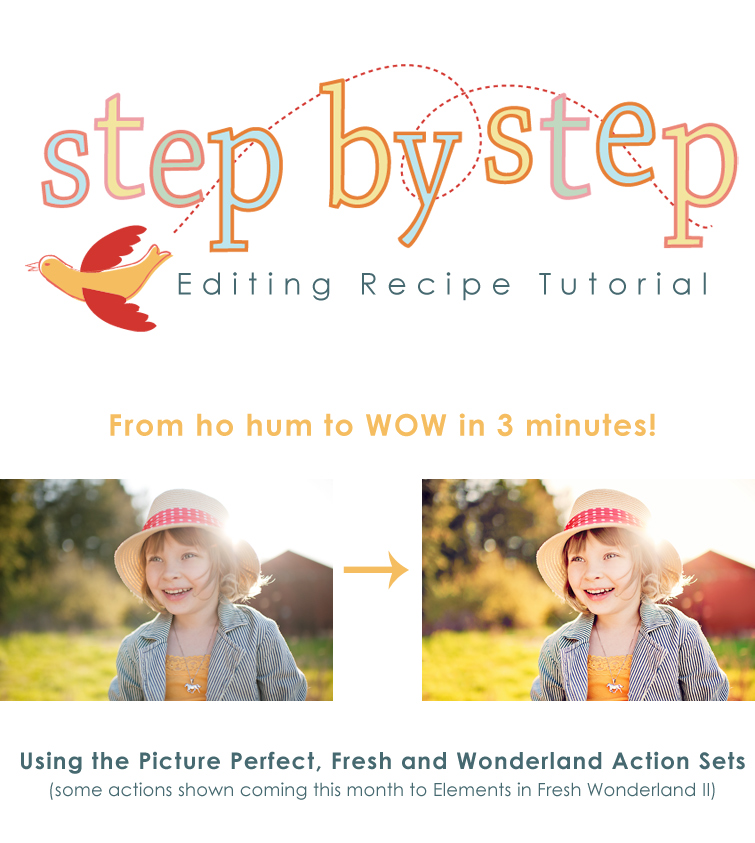 Today's Step by Step uses the sets, Picture Perfect, Wonderland and Fresh (Available in Elements as Fresh Wonderland 2).
If you love sun flare, but have a hard time achieving it in camera be sure to keep an eye out for an upcoming post with tips on capturing gorgeous backlit images! I'm just still waiting for another sunny day here in Oregon so I can take some photos to use as examples … rain, rain go away! 🙂 I'll have tips on correctly exposing and choosing your settings for backlit images, the best time and location/position to shoot for great flare and lots of other helpful tips to capture that glorious sun! For those interested, this image was taken with the Nikon D700 using a 35mm 1.4G lens, ISO 200, 1/2500 sec, f1.6 … it was about 7pm and the sun was going down fast (best time to take flare/backlit shots are either an hour before sunset or the hour after the sun rises because it's low in the sky). 🙂
I start with the much loved Pop My Flare! action from Fresh (Pop My Flare! is in Fresh Wonderland 2 for PSE). This action gives you mega color and pop … a little goes a long way, so be sure to adjust opacity as needed. I leave it at 80% for this image, giving it a lot of drama with heavy contrast, color pop and brightening the midtones.
To give her skin a nice, warm glow that goes nicely with the golden sun and gets rid of the cool tones due to her face being shaded, I run Add Some Honey from Wonderland (Fresh Wonderland 2 for PSE ). I turn the opacity down to 45%.
To give the overall eye area just a touch of brightness I'll paint over her eye area and forehead using Paint With Light from Picture Perfect (Selective Light for PSE). She's got some great catch lights in her eyes despite having her face turned into shade – this is because the road in front of her was so bright and acted as a natural reflector.

I don't want to edit her eyes directly because it would look unnatural for them to have a lot of light or pop in them, given we can see clearly she's being shaded by the hat and has her back to the sun. So, just a light brush over the entire area to brighten her face up a tiny bit at 17% is all it needs.
To brighten up the shadows which have gotten a little muddy with the strong contrast added I run Brighten Shadows (light overall touch) at 35% from Picture Perfect.
Finally, I run Paint on Color Pops from Picture Perfect over everything but her skin at 30%. Because I don't want my grass to look too neon, I run Banish the Yellow (See You Later Yellow in PSE) from Picture Perfect, painting over the subject with a black brush on the layer mask because I don't want to reduce the yellow in her skin tones, just the landscape. I leave that at 25%. And that's it!!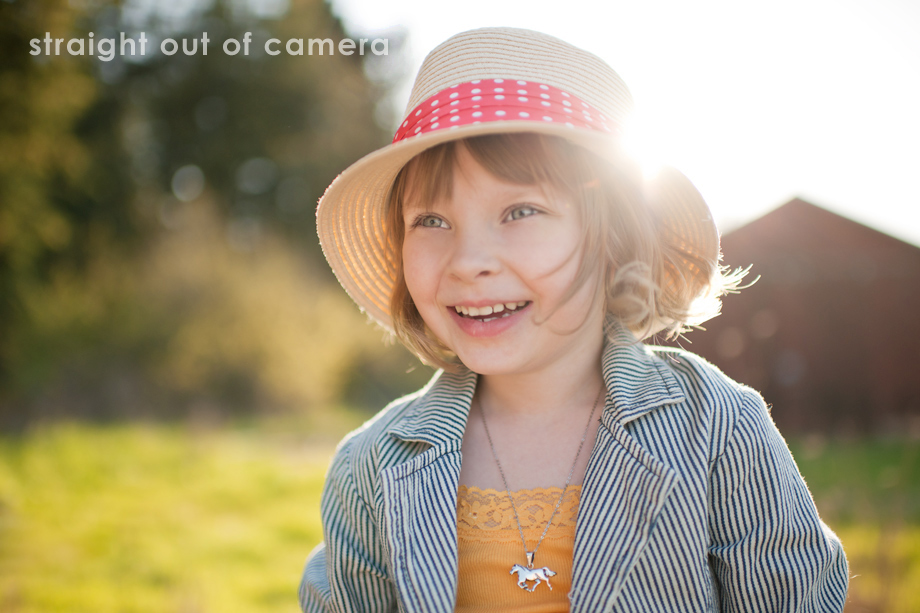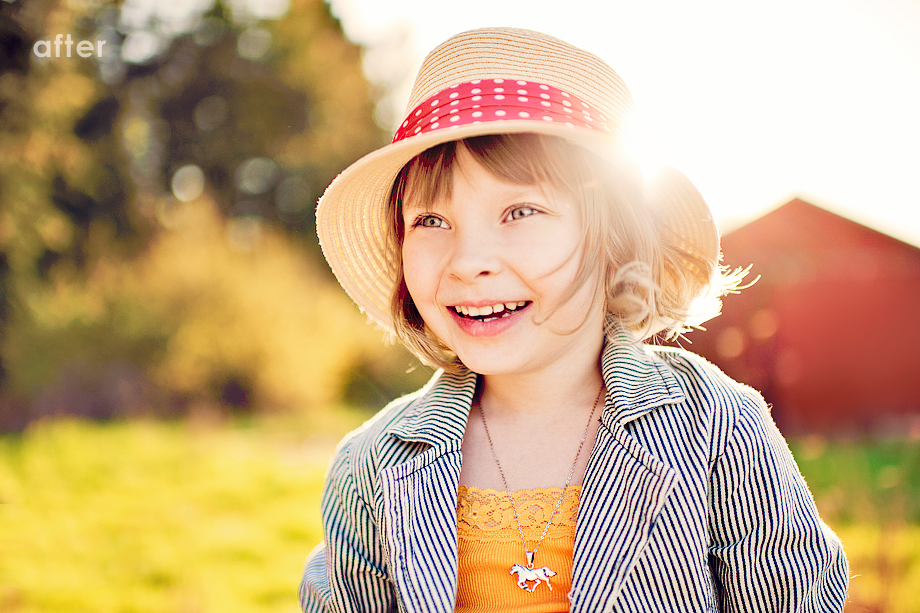 And for a little lighter, more whimsical look I run The Candy Shop from Blessings at 50% and turn on the Rose Water Haze and Honeymoon Haze layers.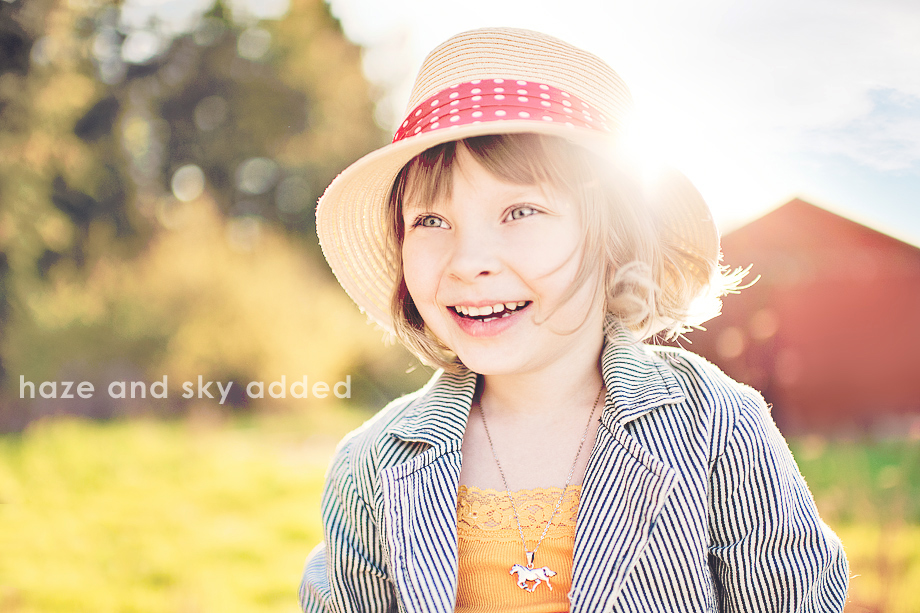 Tags:
elements actions
,
flare
,
light
,
Photoshop Actions for Photographers
,
photoshop tricks
,
photoshop tutorials
,
step by step
,
sun flare