The Luminosity Collection
Includes The Essence and The Artisan Sets
With 56 robust workflow Actions (The Essence), and 57 unique artistic toning Actions (The Artisan), the Luminosity Collection will give your images clean, vivid colors and striking black and whites while giving you the power to create your own unique style.
Choose Your Platform
Choose your product
Full Collection
(Save $31 on the Bundle!)
Full Package
(Save $31 on the Bundle!)
Luminosity / Artisan Set

$

90
Luminosity / Essence Set

$

90
Add to cart
Add to cart
About The Luminosity Collection
Consisting of two sets, the Essence and Artisan, the Luminosity Collection gives you essential color corrections, rich color shifts and color pops, vibrant artistic toning Actions, plus beautiful and deep matte finishes to help you create your own vision.
You will love the Unique "Blender" actions included with Luminosity. With these amazing Actions you can run all Actions in a category at once to try them out or simply mix and match to help you create your own special recipes.
Let Luminosity's powerful workflow Actions help give your images the clean, vivid, and vibrant edits you are after!
See The Luminosity Collection in Action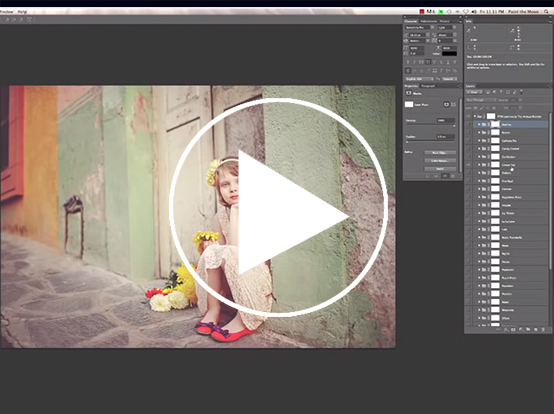 Luminosity Overview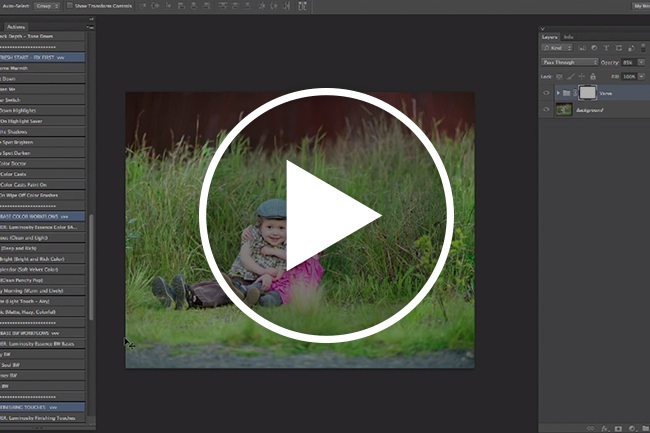 Clean Vibrant Color Edit
Customer Reviews for The Luminosity Collection
WOW! I absolutely love these actions!! They have saved me so much time and I've been able to create my own unique style with them. Thank you so much for these actions! I am feeling more confident with my images now! These actions will rock your world!!
Thanks again!!
– Vivian S.
I am completely smitten with these actions! I love how I can customize them to suit my style. No matter what your style is, they are SO versatile that you can create any type of look you want.
– Robin Long Photography
"The Luminosity and Artisan sets have "completed me." I say this because these sets have spoiled me with their absolutely amazing outcomes. I am able to stay true to my style with these customizable, simple to use, actions! I LOVE that they are stackable, and each action has layers that you can customize to your liking. The tones are so magical and peachy, and work extremely well with perfecting skin tones! Whether your style is bright and luminous, matted and hazy, warm or cool, whimsical or modern, The Luminosity and Essence sets will bring a breath of fresh air, and a touch of magic, to your image!"
– Brooke Lomburg Photo
There is no secret behind Annie's well-deserved success in this field. She is an awe-inspiring camera-artist, but more than that, an artist, a mother, and a hard worker. PTM actions are the best actions I have worked with by FAR, and it is obvious that Annie has a true talent and desire to bring only the BEST original, and gorgeous hand-crafted products, so that you can quickly and easily create beautiful, vibrant, and lavish photographs. Annie has inspired me as I have learned photography, and always been there when I needed a helping hand.
– Ryan Kohlmyer
I've been in business for a year. Family portraiture is my specialty. Until last week, I would spend an unreasonable amount of time getting my images just right. The first product I've purchased will not be my last, as it has increased my productivity 10 fold. I thank you for making it so easy. I thank you for making it so very worthwhile. We all want the perfect image SOOC, but this just, well, makes perfect even better!
– Kate Richardson Photography
It's been a week since I purchased your Luminosity bundle. I'm still learning and going through the ropes here, but I would like to thank you for this product. Each photograph is a new journey and inspiration now and I'm enjoying my work once again.
Warm regards from sunny South Africa,
– Anena Burger
AMAZING! Annie has perfected her actions and cut hours off of my editing time. She is quick to respond to all inquires and very helpful. I recommend her actions every chance I get!
– Lauren Sandor
Thank you soooo much!! I have just edited two of my landscapes from the Luminosity Collection and they are exactly what I was looking for! I always knew the look I wanted but didn't have the Photoshop skills to do it. You have made me one very happy lady. 😀
– Monika Bauer
I have used other Photoshop actions, but none of them come close to yours. They really are AMAZING! As a relatively new user to Photoshop, I can't believe how easy they are to use. Also, they have taught me so much about Photoshop!
– Jennifer V.
Beautiful and easy to use actions (with 'how to' instructions along the way! Absolutely appreciated by this newbie :)) Thank you, Annie, for making it so easy to bring life to my photos!
– Lisa Tidd
I am a mom with a full-time job and two kids that takes photos of them for fun and posterity, your actions have brought me so much joy in what I can do to elevate and creatively enhance my pictures. What you have created is amazing and helps make Photoshop a little more accessible for those of us who aren't as well versed in it. Thank you!!
– Andi A.