Click here for original photo

Click again to add PTM actions
Dancing Lights:
Bokeh & Dreamy Color
A versatile and powerful set of over 50 gorgeous textures plus the Textures Rock Action Set as a bonus.
$49 $39

Purchase Options
Dancing Lights:
Bokeh and Dreamy Color
A whole new breed of rich overlays (just like textures in application and use, but more subtle in results) to add some fun, color and a whole lot of depth and richness.
The Bokehlicious set includes unique overlays created to give an authentic bokeh look (versus digitally created bokeh overlays) and then hand painted and lightly distressed to make them just perfect.
The Dreamy Color set includes overlays that add color and depth to your images, creating a special mood and add just a tiny bit of distressed texture.
Also included is the Light Fantastic mini set of overlays to enhance outdoor photos and add a bit of sunshine. You'll also receive an exclusive Photoshop action set designed to make applying your textures and customizing your look effortless! Compatible with both Photoshop and Elements.
Purchase Options
Purchase Your Textures
Or Purchase All Textures & Overlays
The Bokehlicious Set: 31 Overlays
The Dreamy Color Set: 10 Color Overlays and 12 Light Overlays
BONUS: Textures Rock Action Set: Includes the Apply Texture action, allowing you to adjust temperature, intensity, etc. and the Remove Texture/Keep Color action (great for for skin areas).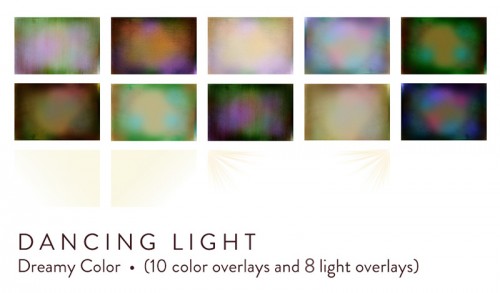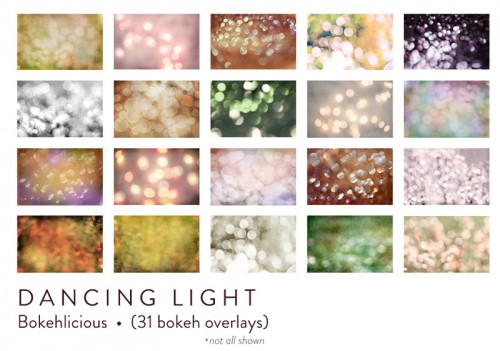 view PDF guide
"I just wanted to say thank you for your incredible actions. I have used many different professional actions and none of them compare to yours. They are absolutely stunning!"
– Kira Spencer
"I have been using your actions for years to do things I would never be able to do on my own. Not even imagine. If it were not for your actions I would not know how to edit my images beyond basic adjustments. You make my photos into art, and I so appreciate it.
Thank you so much for all that you do!"
– Angelika Mitchell
product_bottom_cta(); ?>