Show off your love for Paint the Moon and your involvement in the This Is Our Life project as well as the original Let's Do 52 Project!
Copy and paste the code below to insert on your blog or site (you can't right click to copy … place cursor inside little text box below the button you want, do a "Select All" and the a "Copy" and then "Paste" where you need it on your site – if you need help, see bottom of page).
And I thank you from the bottom of my heart for your support!!!

For all our members in the "This Is Our Life" project …
And for those who have had their images featured on the blog for the This Is Our Life project:

For for the 52 week project … show off your commitment and excitement for being part of the group:
For those who have been featured on the blog as a Pick of the Week in the Let's Do 52 project:
For the kids and families involved in Let's Do 52 – Kids Click Too: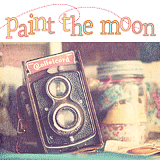 By Annie Manning